Pigment Red 202-Corimax Red 202
Technical parameters of Pigment Red 202
| | |
| --- | --- |
| Färgindex nr | Pigment Red 202 |
| Produktnamn | Corimax Red 202 |
| Produktkategori | Organiskt pigment |
| CAS-nummer | 3089-17-6 |
| EU-nummer | 221-424-4 |
| Kemisk familj | Quinacridone |
| Molekylvikt | 381.21 |
| Molekylär formel | C20H10CI2N2O2 |
| PH värde | 6.5-7.5 |
| Densitet | 1.5-1.75 |
| Oljeabsorption (ml / 100 g)% | 30-60 |
| Lättfasthet (beläggning) | 7-8 |
| Värmebeständighet (beläggning) | 200 |
| Ljusstyrka (plast) | 7-8 |
| Värmebeständighet (plast) | 280 |
| Vattentålighet | 5 |
| Oljebeständighet | 5 |
| Syrabeständighet | 5 |
| Alkali motstånd | 5 |
| Färg | |
| Nyansfördelning | |
Funktioner:
Corimax Red 202 is a bluish shade high performance pigment, with good fastness and heat resistance.
Its main use is paint and plastic.
Ansökan:
Rekommenderas för bilfärger, industrifärger, pulverlackering, tryckpasta, PVC, gummi, PS, PP, PE, PU, vattenbaserade bläck, lösningsmedelsfärger, UV-bläck.
Suggested for building automotive paint, coil steel coating, offset ink.
TDS(Pigment Red 202)
Relaterad information
Pigment Red 202 gives a stronger blue light red than 2,9-dimethylquinacridone (Pigment Red 122), excellent light and weather fastness, and is similar to C.I. Pigment Red 122 in application performance. It is mainly used for coloring automotive coatings and plastics, and transparent products with small particle sizes are used for double-layer metal decorative paints; it can also be used for packaging printing inks and wood coloring. There are 29 types of commercial brands on the market.
Aliases: C.I.Pigment Red 202; P.R.202; Quinaridone Magenta 202; 2,9-dichloro-5,12-dihydro-Quino[2,3-b]acridine-7,14-dione; PIGMENT RED 202; 2,9-Dichloroquinacridone
InChI: InChI=1/C20H10Cl2N2O2/c21-9-1-3-15-11(5-9)19(25)13-8-18-14(7-17(13)23-15)20(26)12-6-10(22)2-4-16(12)24-18/h1-8H,(H,23,25)(H,24,26)
Molekylär struktur: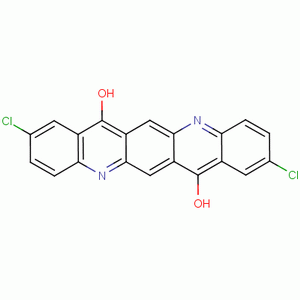 Physical and chemical properties:
Hue or light: blue light red
Relative density: 1.51-1.71
Bulk density / (lb / gal): 12.6-14.3
Particle shape: flake (DMF)
pH value / (10% slurry): 3.0-6.0
Oil absorption / (g / 100g): 34-50
Covering power: transparent type